Webfusion is harnessing the power of digital solutions to help customers build an optimum solution with creativity and innovation. The company is expected to make a mark as a top web designing & development company at GoodFirms.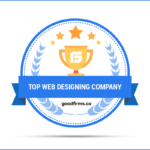 About the Company
Established in 2015, Webfusion Solutions is an outsourcing web and mobile application development company located in Surat, India. The company is serving customers of different niches globally, and the services offered by them are quality-driven, which helps their clients to have the edge over the competition.
The company has worked with numerous clients to deliver highly scalable and customized services. Their team is working with passion and determination to transform the industry digitally. The professional develop customer-centric solutions by connecting with them at every stage of development. Most importantly, the firm takes pride in their updates because they keep iterating to prevent applications or services from getting outdated.
GoodFirms Research Process
GoodFirms is a Washington DC-based research and reviews firm that lists and ranks companies to help them hire the best partners. The study conducted by the learned researchers plays a crucial part in assisting seekers by evaluating and ranking each company based on their Quality, Reliability, and Ability parameters to deliver solutions and services as their requirements.
Webfusion also underwent this evaluation process and got placed on the list of best companies. The firm has been doing its work with considerable honesty and diligence. Details from the research are given below:
User-Centered Web Designing Services
The design team defines usability and creates a design that is the exact representation of their clients' businesses. First off, the team outlines the roadmap aligned with the client's needs and then goes on to integrate other crucial features that propel their business forward. In other words, designers at Webfusion are always on their toes, making improvements, and are on a continuous deployment schedule. Not to mention, they adopt an agile methodology to come up with great website design.
Romelle Maluto, a happy and satisfied customer, gave Webfusion 5-star rating. The client's praised them for their commitment and creative approach.
The designing team makes sure that the developed output does not only look appealing but also drives a good amount of traffic to the website.
With deep experience and expertise like informative architecture, user interface animation, branding, user testing, and validation, the company serves customers with utmost commitment. Considering all these factors the company can soon be expected to rank as the top web design company at GoodFirms.
Large Scale Web Development Services
All the websites designed by Webfusion until now are customized to the needs of their customers and strategized according to plans and new trends. The team works entirely using their experience to build the most beautiful websites for engaging the market and turning opportunities into leads.
The team holds expertise in B2B portals, B2C portals, enterprise app development, flexible web maintenance, and other services related to the website. They promise to hand-hold their clients at every step. They are also very proud to have witnessed a significant improvement in clients' business due to their strategic direction and intuitive development services. Their considerable experience and efficiency will soon entitle them as the top web development company in India at GoodFirms.
Delivering Feature-rich Mobile Apps
With enormous expertise and experience, the Webfusion team develops custom mobile application development to help clients get the wind beneath their wings. The company's dynamic team is professionally equipped to offer mobile app development and designing strategies to deliver quality and customized results. The team's specialty lies in mobile enterprise apps, mobile business apps, and consumer mobile apps.
The professional and dynamic team works with the primary aim to develop perfect quality, easy UI, and ascendible mobile apps that can carry the brand's image. Armed with experience in different industry verticals, the team's approach to streamlining processes is unique from other app development companies. Thus, working with conviction and utmost efficiency, the firm can envisage its place as the top mobile app development company in the world at GoodFirms.
About GoodFirms
Washington, D.C. based GoodFirms is an innovative B2B Research and Reviews Company that extensively combs the market to find top Web Designing, web development, and Mobile App Development firms that offer the best services to its customers. GoodFirms' extensive research processes help rank the companies, boost their online reputation and helps service seekers pick the right technology partner that meets their business needs.
About the Author
Anna Stark is a staff writer with GoodFirms – a Washington D.C. based B2B Research Company that bridges the gap between service seekers and service providers. Anna's current role includes gauging companies' performances and their key attributes and putting them into words. She firmly believes in the magic of words and is always on the lookout for new strategies and ideas that companies have gladly embraced, and then helps them shine a light on those to make their identities shine brighter.