Are you looking for up-and-coming trends in app development? Luckily, it's our specialists' job to investigate these practices and reveal them to you.
Our portfolio items show projects where we've built various innovative mobile and web-based digital products. But, today, we're here to discuss on-demand apps.
About 86.5 million United States residents, 42% of the adult population, have used on-demand services, according to Business2Community.
We're talking about solutions like Uber, GrubHub, and Postmates, which have recently risen in popularity. These solutions offer same-day goods and services, satisfying the short attention spans of modern consumers.
If you supply consumer goods, there are a few good reasons to consider investing in an on-demand app.
They Offer Untapped Opportunities
Beyond the benefits of on-demand services, mobile devices also offer the potential to connect with new audiences. According to Statista, the number of mobile phone users are expected to increase by over 4.5 billion by 2020.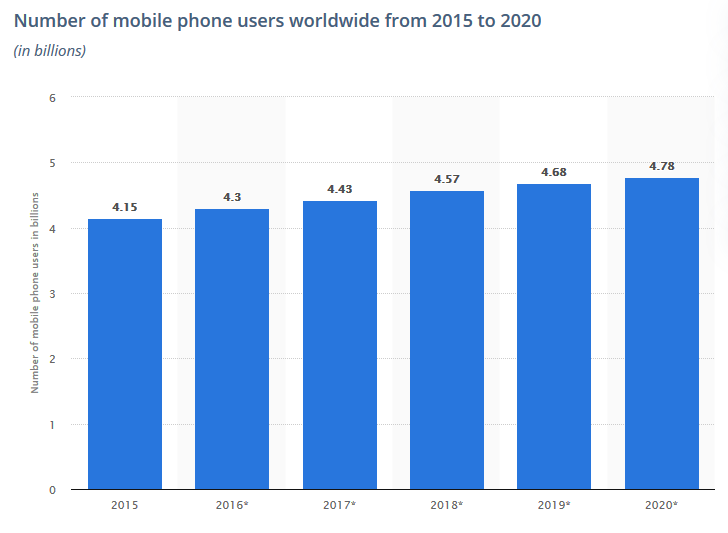 Each mobile device represents a potential consumer. On-demand apps are an effective way to engage this mobile audience with a solid service they will appreciate.
On-Demand Apps Span Many Industries
You don't have to be a retail business to benefit from building an on-demand mobile app. In fact, some of the most successful industries to offer quick-delivery mobile services aren't retail.
These industries include:
Transportation services
Healthcare
Food & Beverage
On-demand jobs
Home Services
If you're in any of these spaces and don't have an on-demand app, you may be missing lucrative possibilities. We encourage you to consult with our experts to discover how building a quick-service app could strengthen your business.
An On-Demand Option Improves Customer Service
From experience, we know that quality web and app development can make your company stand out. But, nothing increases user loyalty like investment in your customer's experience.
The accessibility and speed of an on-demand mobile app will satisfy even the most finicky user. Mobile apps have an incredibly high deletion rate, so it's important to make sure your users are well taken care of.
Also, developing an on-demand app will also put your company on-par with the delivery speeds of successful corporations like Amazon and ASOS. These companies are renowned for their seamless customer support, and you can be too!
Here is the example of On demand app created by Webfusion. For more details you can contact Us. We are happy to do chitchat with you.
There are Countless Feature Opportunities
Whenever we start an engagement regarding an on-demand app, we start brainstorming possibilities with our client. This is because our clients don't realize there are countless ways to offer value by incorporating innovative features.
Beyond the on-demand functionality, these apps could offer:
GPS order tracking capability
Quick, digital payment
Ratings and Reviews
All of these functions show that you're invested in your user's experience. This will increase trust in your brand, which will strengthen customer engagement and loyalty. These offerings will also generate customer data that could be useful to your business strategy.
The App Will Offer a Personalized UX
On-demand apps must consider the user's specific location to be successful. Moving beyond that, there are many more ways to personalize the UI of the app.
This is important because studies have shown the more personalized your solution, the more conversions it will generate. According to Instapage, 78% of consumers reported that personally relevant content from brands will increase their intent to purchase.
You can incorporate a customer's name, order history, and preference patterns to provide an individualized experience. When an on-demand app predicts your user's needs, they move through the sales funnel more quickly.
The custom UX that on-demand apps offer will make both your company and your customers happier.
Consider the Value of On-Demand Mobile Solutions
Through working on a wide range of mobile app projects, we know what it takes to launch an incredible solution. So, trust us when we sa.y there's a high demand for quick-service mobile solutions!
Our skillset in information architecture, UX/UI, mobile app strategy, and portability can help you achieve the solution you're looking for. Don't hesitate to contact us if you think your business could benefit from a mobile app.